Hallucination of Forces Francisco-Javier López Marcano (2009)
Catalogue of the third and last exhibition within the "Año Gran" programme held at the Sobrellano Palace (Comillas) and organised by the Department of Culture of the Government of Cantabria in collaboration with the Enrique Gran Foundation.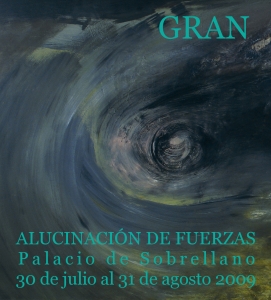 THE BLUE PRESENCE
Many are the events and meetings programmed within the "Año Gran" on the occasion of the 10th anniversary of the death of one of our own, and many are the colleagues, media, friends and institutions that give voice to this tribute, whose main peculiarity is the dimension, affection and deep recognition, not only to the artist, but to the "excessive humanity" of Enrique Gran.
The protagonist of one of the most singular and outstanding trajectories of Spanish painting of the last century, he was also a man whose charisma and genius left none of us who crossed his path indifferent. The Culture Councillor , always present in the dissemination of his work and his memory, is hosting in the Sobrellano Palace, Gran's most monumental work, a selection of his most emblematic landscapes in which his masterful treatment of light and colour give shape to overwhelming scenes of parallel universes that could well illustrate any treatise on quantum physics.
Based in Madrid, but a convinced devotee of Cantabria, he never missed the cultural meeting in the summers of our region and after ten years of absence, Enrique Gran returns to Cantabria integrating "his blue presence" among us, and returns in July as he used to do, but this time to stay.
Francisco Javier López Marcano
The Culture, Tourism and Sport Councillor of the Government of Cantabria