The dream maker-Francisco Nieva (2005-2006)
Exhibitions carried out by Caja Cantabria (Obra Social) and the Department of Culture of the Government of Cantabria which took place in the Caja Cantabria Cultural Centre (Santander), the Caja Cantabria Palace (Santillana del Mar) and the Lebaniego Study Centre – Church of San Vicente (Potes).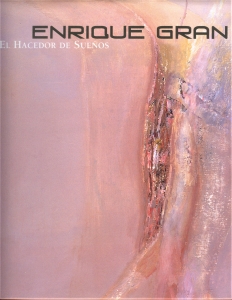 THE LEGEND OF ENRIQUE GRAN
Francisco Nieva. Member of the Royal Academy of Language.
Text extracted from the book "El hacedor de sueños", published on the occasion of the exhibitions in homage to Enrique Gran. Caja Cantabria Cultural Centre, Santander. 2005 Caja Cantabria Palace, Santillana del Mar, Cantabria, 2005 Centro de Estudios Lebaniegos (San Vicente Church), Potes, Cantabria, 2005.
Has Enrique Gran been the most enigmatic and romantic figure in your group and even in your time? It is true that he was. I have known his paintings before him, and they have impressed me greatly. In what sense could he be described as an abstract or illusionist, materialist or visionary? In his paintings you could see reliefs and shadows of photographic veracity. You could say that it is a visionary photography. They suggested like enormous cosmic collapses, in the middle of avalanches of light; aerial visions, which collapsed, as if they were being observed from above by a divine "creator" without restrictions and without mercy, who was pleased to produce a whole succession of dazzling cataclysms, each one with a different meaning, atmosphere and colour.
We see matter flying, we see whirlwinds of all kinds curling and spreading dawn and dusk, fog and storms, with a magical and inexplicable realism, as if we saw them "in truth". This "resemblance to…" made him suspicious of the criticism of radical informalism and the programmed rupture, which only aspired to have Tàpies mark him with a chirlo, well cut, in his mortar sensibility. On the contrary, this would have excited Víctor Hugo, would have excited Baudelaire… And so, for lack of culture and real sensitivity, the Spanish critics of the time did not fully recognise his great role, that of a 20th century romantic, a special case, that of a portrait painter or metaphysical landscape painter of a contemplative and painless apocalypse. These paintings are presented as snapshots of the maximum telluric revolution, before man appeared or after he disappeared.
In solitude and in an always shocking silence, this curious visionary of our time was also a very handsome and attractive boy – the hero painter with a virile naivety and a keen psyche. An almost fictional character, an affable and thoughtful Don Juan, full of a great and complex inner life. It was very rewarding to live and talk with him. Nothing shows this better than the sequence of a film, already historical, which immortalised him in his best moment of melancholy and affability. What a presence he had, what an assurance that he was a true "divo" in front of the camera! This film is El sol del membrillo, in which he intervened as an interlocutor for Antonio López. It was as if the director, Víctor Erice, had bet on the best actor in Hollywood for that role – absolutely moving and expressive – and for one of the best scenes in this film, so full of discoveries and deaf and sharp emotions. There we have Enrique Gran, there we have him always fixed, always present and alive in it. This is how I would like to find him again. He led a life as a tireless painter and he hallucinated by his own will of hallucination.
He had no practical sense. His magnificent paintings could have had a very high price, if they had been better promoted, and maybe there is still time, when their value and meaning are properly highlighted, those paintings will not be lost; but he seemed to live in another world, as if he were locked in a great lighthouse, where there was always a dazzling chaos. And he smiled, he always smiled… But as in a romantic tale – a tale by Balzac – the coin had a reverse side. The day I visited him in his studio, I was alarmed. He couldn't explain it to me, it had nothing to do with anything, what I saw was crazy. I told Antonio López. – "And Enrique Gran? Something is happening to him, we don't know what it is. It seems that he has no brakes, he doesn't stop painting, he paints constantly and without rest, he is tying himself up; the studio is full of paintings, full to overflowing; they are cornering him materially, they are going to drown him, they are drowning him and it seems impossible to live there. What can be done, what can we do?" And that was indeed the case. Delirious and silent, like his painting.
His immense conceptual load, of sea and mountain slides, pressed him more and more, like a projectile about to explode. The result was predictable. But how to stop it? By putting it in the hands of the administration as quickly as possible? How long does it take to denounce all this to an administration that asks for so many justifications to proceed? Nothing could be done. The novel and enigmatic painter died tragically, as if all the cosmic discharges invoked by him were burning him with their light of creation and destruction. This is the legend of Enrique Gran. However, that intense inner life is a mystery.
We do not know well who Enrique Gran is, who he was, why he came to paint like this, what was the mystery that made him live and die. We only know about the creative force that animates his most dazzling and disturbing paintings, those of a contemplative and painless Apocalypse. Who is witnessing it? The last secret of the romantic Gran, may be this: art is suggestion, and Gran suggests us to look at his landscapes from a very original point of view: the one that God himself could have, very quietly installed in a bunker of self-protection against himself. This game, which is risky and romantic, is not lacking in strength. And a source of hallucination, both for the collector of good paintings and for the most uninformed viewer.
Madrid, 6th December 2004
Francisco Nieva