Essence of Gran. Book that gathers the literary work of Enrique Gran, illustrated with details of his pictorial work. 2019
Essence of Great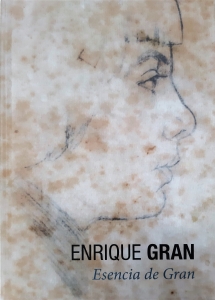 The Enrique Gran Foundation, in its project to disseminate the creative universe of Enrique Gran, is focusing this 20th anniversary on the literary facet of the Cantabrian painter who is an indisputable reference point for Spanish abstraction in the 20th century.
This literary facet, largely unknown and claimed by some of the greatest exponents of culture in our country, such as the director of the Royal Academy of Language José Manuel Blécua or the filmmaker Víctor Erice, among others, is the focus of the programme of events to commemorate this anniversary, with two meetings taking place, the main theme of which is the texts of this brilliant painter and humanist, who continues to surprise us with the magnitude of his legacy, also in this facet:
-The publication Esencia de Gran (Essence of Gran) which brings together a wide selection of Gran's writings, some of which are unpublished and illustrated with details of drawings and paintings by the artist.
-With the same theme, the concert Esencia de Gran which presents the said writings in the voice par excellence of our country in Santander Cathedral, the journalist Luis del Olmo, accompanied for the occasion by the Salvé Choir of Laredo, under the direction of José Luis Ocejo, with projections of Gran's pictorial work presiding over the meeting as "master of ceremonies".
This concert, in addition to presenting Gran's literary legacy in a brilliant and effective way, allows us to make history both for its quality and for its thematic uniqueness.
Sponsors: The Government of Cantabria, Santander City Council, the Salvé de Laredo Choir and the Enrique Gran Foundation.