Seven Counted Colours Fernando Zamanillo Peral (2009)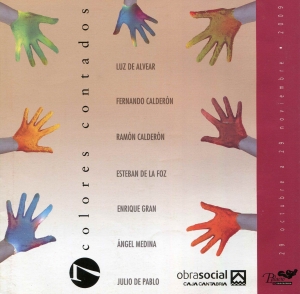 Collective exhibition organized by the Social Work of Caja Cantabria in the Palacio de Caja Cantabria in Santillana del Mar (Cantabria).
ENRIQUE GRAN
"My paintings describe, I think, states of mind,
and this nature speaks to us in silence the same thing
that a human "speaks" while asleep or
…dead. Looking at them I could feel the good time
and I have also come to believe
that they show us the drama of things without a soul,
forms and phenomena of a nature that has not yet
have a name. In some paintings I have identified
energy melts in a deafening explosion with others
elements. And as for those individuals who are normally in my
painting, are tenants of their own atmosphere, and the most
distorted humanoids that being and not being, generate their light and their shadow".
Enrique Gran
This thought of the artist about his own work reflects very well his peaceful and serene personality, as if he were far from worldly vicissitudes and yet very sociable and fully emitting the same goodness that defines him. But also a person who believed in other forces, not precisely transcendent, but cosmogonic and pantheistic, which also go beyond our limited reason.
Enrique Gran was not an artist I treated much in life, but that did not prevent me from valuing his personality in the sense described above:
I remember that he was one of the first painters, then called Montañeses, whose inauguration I attended when I was outside Santander. It was in the Juana Mordí gallery in Madrid in 1972, in the last year of my university studies.
I also remember how much I liked his painting and how it trapped me, in the almost magical sense of a reality that we tried to call easily abstract, since its meaning was incomprehensible to us. A formal representation of landscapes and unreal figures, of impenetrable meaning, which the painter endowed with a soul and a generating force that, painting after painting, was completing, in its different transformations, an inner world full, in appearance and references, of telluric forces.
His manifest kindness, his gentle irony in his treatment and his apparently withdrawn and yet very talkative being, hid a restless soul that sought through his painting a sense of the world beyond its almost always banal reality. We can say very clearly and rightly that his painting represented the sublime of nature in its origin and birth, in its most primitive formation, or perhaps also in its almost apocalyptic end, and always that fused energy and that deafening explosion with other elements, of which the artist spoke. In the end, he was a painter of feeling and romantic representation who, looking for the comic at the beginning of his studies, ended up creating a pictorial world so unreal and unnamed in its appearance, but deeply human in its essence.
Fernando Zamanillo Peral